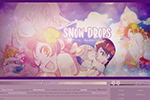 Version 4:
Summertime Vibes
Series:
Kamisama Hajimemashita
Featuring:
Nanami Momozono and Tomoe
Dates Used:
June 12, 2021-October 22, 2021
Description:
I made it to the
fourth version!
After finishing this manga series, I really wanted to create a layout featuring this series, and this OTP ♥ I loved the series, and the ending was just...awww ♥♥ One of the best endings. And Tomoe is just...Tomoe *swoons* Why must the animanga world create such fine men? Lol. I loved the purple theme and it made a nice summertime look for the last few months. I hate to part with it, but it's time for a change lol.