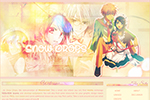 Version 3:
Sweetness
Series:
Kaichou Wa Maid-Sama
Featuring:
Takumi Usui and Misaki Ayuzawa
Dates Used:
March 11, 2021-June 11, 2021
Description:
The
third version
! I had finished this manga series and I thought, this should be my next layout. It's such a cute series ♥ So after searching for some good scans from this series, I came up with this: a yellow and pink themed look. Someone said it reminded them of ice cream and it does actually! Lol. I love this power couple...they're like...unstoppable. *sighs* to have my own Usui would be amazing hehe. No wonder why us women have such
high
expectations when it comes to men lol.